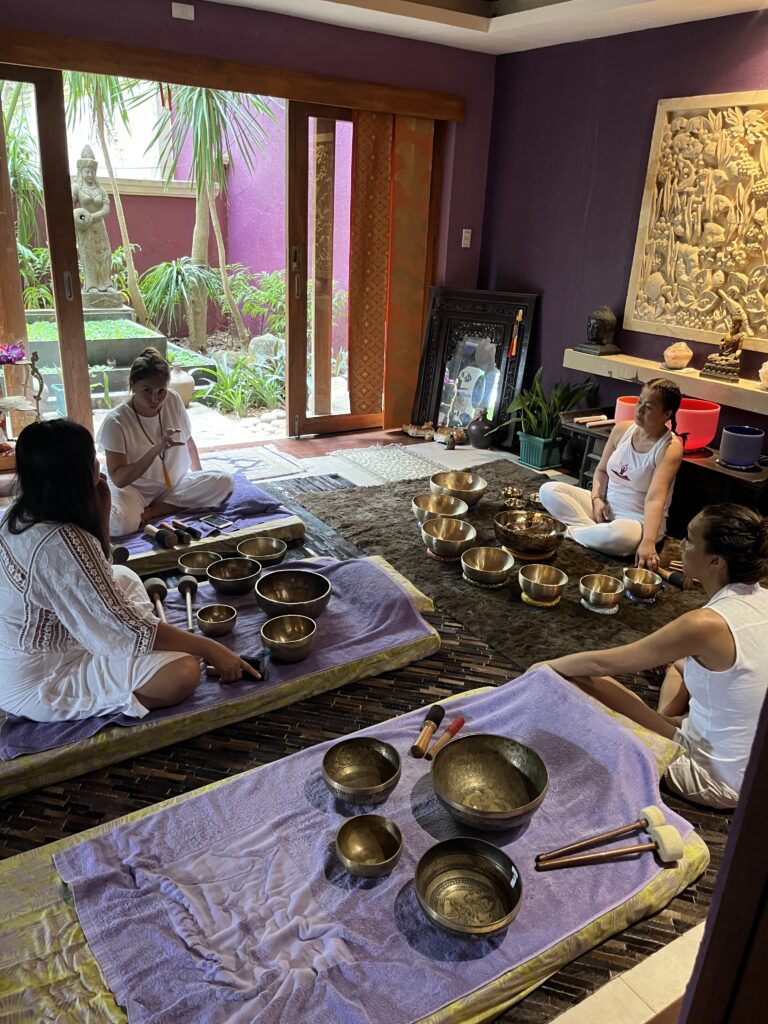 On the demonstration and practical course you will learn:
A. You will learn space clearing or space cleansing – clearing and cleaning stagnant energy or eliminate any negative energies or bad spirits or elementals in any rooms, your house, office spaces, business places, shops, stores, hotel rooms and all places that needs energy cleansing. This is to improve the business or relationships of any kind, removing the obstacle from the space. Good for feng shui.
B. Self-healing
C. Aura self-cleansing, using 4 chakra bowls (placing bowls on your body)
D. Aura cleansing / sitting and lying position
E. One on one sound bath healing treatment
F. Family Sound Bath
G. Introduction to Tuning Forks
H. Introduction to 7 to 15 Tibetan Singing Bowl surround sound concert
Note: there's a practical exams and case studies
FOUNDATION LEVEL 1 (2-days / 10:00 am to 3:00 pm)
4 Tibetan Singing Bowls only
For self – healing and for family treatment therapy only
GENERAL LECTURES AND DISCUSSIONS.
– Learn the benefits of Sound Healing and Vibration Therapy
– You will learn the knowledge about the core principles and history of Tibetan / Himalayan Sound Healing, Vibration Therapy
– Understanding about Energy Healing as Energy Medicine in modern science
– Spiritual cleansing and smudging, with yourself, clients, spaces and the bowls
– Important ritual behind the scene and Energy Healer's virtue, invocations and mantras
– Creating relationships with your sacred bowls and their connections
– 7 Chakra system, aligning, balancing, restoration and chakra healing
– Know all the precautions and contra-indications
– Know all the Do's and Don't's
– Practical demonstrations (a) how to create harmonious sounds, (b) uses of different kinds of mallet/sticks on different chakra bowls) (c) proper positioning when playing with your bowls
– How to take care and how to pack the bowls when you travel with it
– Integration of Tuning Forks (introduction / introducing only)
– Kinds of Tibetan bowls and origin, Know the difference of Online bought machine made singing bowls vs hand hammer made from India
– How to give sound therapy to private clients and group sound bath
– How to pursue with this career on Sound Healing
– Practice to perfection
– Case studies
There is an increasing demand from Sound Healers in the world and a lack of Certified Sound Healing Therapists.
FOUNDATION – LEVEL 1
(2 days) – 10:00 am to 3:00 pm
Tuition fee Php 20,000 (theory and practical, excluding the bowls)
– learn about using the 4 Tibetan Singing Bowls
– For self-healing and family treatment therapy
– Integral Sound / Tibetan Singing Bowls and Introduction of Tuning Forks
– Php 20,000 (theory and practical, excluding the bowls)
– Discounts can be arranged with minimum 2 students in a class.
– Requirements for the course: you can buy 4 genuine Tibetan Singing Bowls from me at the school, (you have to choose, depending on the size of the bowls you preferred)
All my 7 metals Tibetan Bowls are made from reputable factory in India, not from online that's made in China!
My Tibetan bowls are all hand hammer made by skilled trade artisans, not machine made from China.